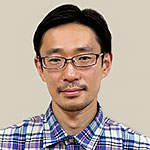 Associate professor:
HIRATA Shinnosuke, PhD
Center for Frontier Medical Engineering, Chiba University
Topics of research:
Tissue characterization based on ultrasound image analysis
Super resolution imaging in contrast enhanced ultrasound
Viscoelasticity measurement/imaging based on shear wave propagation
Publications:
Hirata, S., et al. "Convolutional neural network classification of ultrasound images by liver fibrosis stages based on echo-envelope statistics." Front. Phys., 11:1164622, 2023.
Hirata S., et al, "Evaluation of contrast enhancement ultrasound images of Sonazoid microbubbles in tissue-mimicking phantom obtained by optimal Golay pulse compression," Jpn. J. Appl. Phys., 61(SG):SG 1015, 2022.
Hirata S., et al, "Selection on Golay complementary sequences in binary pulse compression for microbubble detection," Jpn. J. Appl. Phys., 60(6):066501, 2021.
Web site:
Center for Frontier Medical Engineering