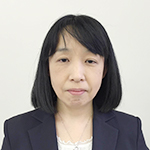 Professor:SEKINE Yuko, PhD
Topics of research:
Clinical Pharmacy
Pharmaceutical Care
Works:
Hamada Y, Masuda K, Okubo M, Nakasa H, Sekine Y, Ishii I.
Pharmaceutical studies of levothyroxine sodium hydrate suppository provided as a hospital preparation.Biological and Pharmaceutical Bulletin. 2015;38(4):625-8.
Sato H, Siddig S, Uzu M, Suzuki S, Nomura Y, Kashiba T, Gushimiyagi K,Sekine Y, Uehara T, Arano Y, Yamaura K, Ueno K: Elacridar enhances the cytotoxic effects of sunitinib and prevents multidrug resistance in renal carcinoma cells. European Journal of Pharmacology, 746, 258–266,2015.
Mkhize S, Suzuki N, Kurosawa1 A, Suzuki S, Gushimiyagi K, Sato H, Sekine Y, Ueno K, Ishikawa T: Molecular docking experiments of 2-aryl-1,4-naphthoquinone-1-oxime methyl ether derivatives with tubulin and their anticancer properties. Chemical & pharmaceutical bulletin, 62, 1231-1237,2014.